Gung-Ho Sellers Post Largest Increase in Nearly Three Years
Minneapolis, Minnesota (September 19, 2018) – More sellers are feeling optimistic about listing their homes just as humidity, cabin weekends and food-on-a-stick give way to rakes, school buses and sweater vests. Compared to last August, Twin Cities sellers listed 7.6 percent more homes on the market. That was the largest increase since late-2015. Although buyers signed 2.9 percent fewer contracts than last year, they did manage to close on slightly more deals. Three of the last four months had increases in new listings; three of the last four months had decreases in pending sales.
This trend of rising seller activity and moderating buyer activity suggests we could be approaching those long-awaited inventory gains. Sure enough, the 7.8 percent decline was the smallest decrease in inventory in over three years. Months supply was down just 3.8 percent to 2.5 months. That said, today's buyers still face plenty of competition over limited supply. Sellers yielded an average of 99.2 percent of their original list price and 100.1 percent of their current list price, illustrating how drastically under supplied markets tend to favor sellers. The shortage is especially noticeable at the entry-level prices, where multiple offers and homes selling for over list price have become commonplace. The move-up and upper-bracket segments are less competitive and—for the most part—much better supplied. The market remains relatively tight, but there are some early signs that things could be loosening up for buyers.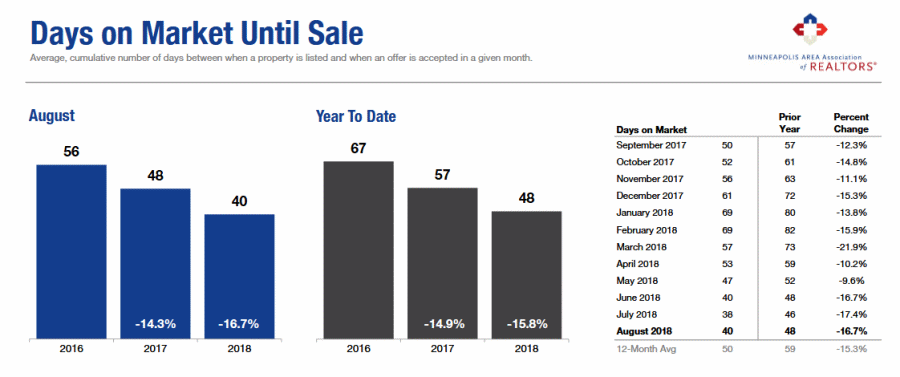 August 2018 by the Numbers (compared to a year ago)
Sellers listed 7,814 properties on the market, a 7.6 percent increase
Buyers closed on 6,629 homes, a 0.2 percent increase from last August
Inventory levels for August fell 7.8 percent compared to 2017 to 12,243 units
Months Supply of Inventory was down 3.8 percent to 2.5 months
The Median Sales Price rose 6.3 percent to $268,000, a record high for August
Cumulative Days on Market declined 16.7 percent to 40 days, on average (median of 21)
Changes in Sales activity varied by market segment

Single family sales fell 0.8 percent; condo sales rose 15.3 percent; town home sales increased 1.1 percent
Traditional sales rose 1.5 percent; foreclosure sales sank 35.4 percent; short sales dropped 31.3 percent
Previously-owned sales were down 0.5 percent; new construction sales increased 20.9 percent
All information is according to the Minneapolis Area Association of REALTORS® (MAAR) based on data from NorthstarMLS. MAAR is the leading regional advocate and provider of information services and research on the real estate industry for brokers, real estate professionals and the public. MAAR serves the Twin Cities 13-county metro area and western Wisconsin.
For more information about buying or selling your home in and around Hutchinson, MN contact the real estate professionals at Hometown Realty – Phone (320) 587-6115.